As a merchant, you may wonder about how to improve your cash flow and generate revenue. Maintaining cash flow is all about receiving payments and preparing invoices so that you can deliver the best customer experience and realize when and how the money is coming in. It is equally important to make the payment process easier for customers to pay so that you get paid faster. This is important to manage smooth and efficient cash flow.
With payment automation, there is a better way to collect payments from customers and track the information to maintain cash flow. All you need is a payment automation solution to speed up the payment process and reduce the chance of human error through manual processing.
Payment automation is a solution for businesses to make invoices directly via any electronic device. Be it either professional service, field service, or retail business, payment automation is a faster and more secure way to collect payment for any kind of service or goods. Payment automation is a solution where your customers can pay invoices from software in just a few steps.
Why Does Merchant Need to Consider Payment Automation?
Companies are spending a lot of time manually processing transactions, sending payments, collecting checks, and reconciling financial transactions. This process is time-consuming and error-prone. Not only inefficient and costly, but this process also creates risks when you need to manually reconcile hundreds of thousands of transactions and deal with multiple systems, such as Pos and inventory management system.
CloudBanking payment solution can help reduce these problems as it has advanced integration tools and payment automation. We want merchants to take advantage of new opportunities to grow and expand the business as we have a solution that cuts costs drastically while streamlining invoice and payment processes.
How Can Payment Automation Amplify your Business Revenue?
Payment automation is a business solution that provides your customers the flexibility in payment, providing them with options to pay via credit/ debit card or ACH. This is important since cash can easily be misplaced and takes days to withdraw cheques. Thus, providing flexibility and convenient payment options speeds up this process and brings consistency to your cash flow management.
Customers do not need to have to verify approvals every single time before they can send payment to you. They can pay instantly with card details in person, online, or over the phone. And in the next few minutes, the amount is transferred to your business account. This helps merchants to manage cash flow effectively by minimizing late payments. With these strategies, merchants can forecast business growth and plan instead of making a random guess on where your business is going.
With an Automated payment solution, you can productively invest your valuable time rather than chasing customers down for the payment. Moreover, your employees are going to be organized and will avoid missing important documents. They are more productive when they do not have to run after hard copy invoices and get access to the digital records, at any time and any place. CloudBanking payment solutions are cloud-based, which allows any employee to accept payments either in-store, online, or via phone and track them from any location. It minimizes the miscommunication that can over while managing back and forth phone calls or email overpayment and lower the risk of errors in weekly, monthly and quarterly financial reporting. With minimum errors, you can make reliable data-driven decisions that support your business cash flow.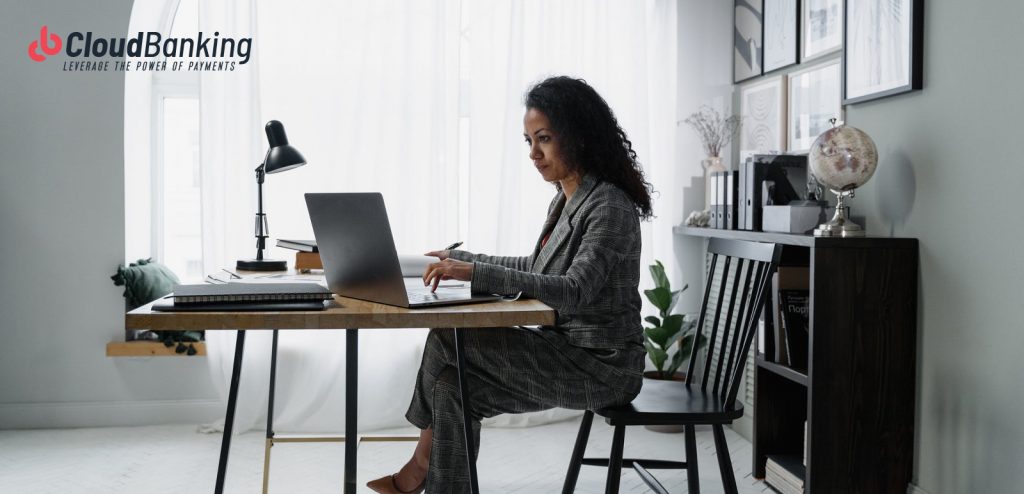 Benefits of Payment Automation
Besides credit/debit card payments and ACH, CloudBanking payment automation allows merchants to provide alternate payment options and process payment online. Thus, it is important to get a payment processing solution to upgrade the accounting system of your business. Find out how CloudBanking contributes to amplify your Revenue with the power of Payment Automation.
Payment Automation reduces the time to collect payments. Moreover, they are economical and easier as compared to manual paper checks. It means faster invoice processing and freeing employees from hours of entering figures and checking their accuracy.
Errors in payment processing consume valuable time and may hamper customer-merchant-supplier relationships. CloudBanking payment automation software validated data entry and identifies expectations that can help maintain a long-term relationship, leaving the competition behind.
Payment automation tools can help your business to streamline the financial report via accounting reconciliation. The payments are automatically verified against the CRM records and provide the financial team with a consolidated view of all accounts.
An automated payment solution recognizes invalid invoices, and the payment gets reported. CloudBanking payment processor provides a balance between fraud minimization and helps customers to experience a seamless experience with your goods or services. This can improve customer trust and minimize the risk that occurred in payment.
Easy Integration with Alternative Payments.
Any business enterprise (online or in-store) needs to have alternative payment options to accept any kind of payment (credit/debit card or ACH Payment). CloudBanking payment processing easily gets integrated with new payment types and improves customers' experience.
Learn More about CloudBanking Payment Automation
CloudBanking is a payment platform that helps businesses to automate the payment process and manage accounts receivable. COVID-19 has forced businesses to go cashless and thus, collecting payments had become a challenge for a business to run smoothly.
Our innovative APIs and tools help to keep your cost low and optimize your cash conversion cycle. It helps in eliminating wasted time on the manual invoice and saves data in the cloud and providing a sense of security. We focus on developing the best tools to make your business run smoothly and avoid fraud and disputes.
Visit us now and Sign up for free for more information.