Accounting integration is software that combines accounting functions into one application. It eliminates the need for separate books or records for ordering, costing, and other management accounting purposes. Integrating helps standardize the procedures for recording transactions and circulating financial information for differential functional areas such as POS terminals and stock management. ​
Accounting information enhances information about the cost of each product, sales, and other expenses and provides comprehensive information about the profit or loss of an entire organization. These systems help management achieve and maintain control over operations by enabling companies to determine marginal costs, variances, and abnormal losses or gains. ​
Additionally, integrated accounting systems can be used to estimate, report, and monitor a company's job costs as well as track and convert employee time into payroll. These systems can also handle additional processes such as inventory purchases, assembly and sales, and sending information like statements and invoices to customers or vendors. CloudBanking provides a game-changer program for your business and allows you to securely connect and access information online. Through integrated accounting, you can eliminate duplicate data entry, streamline accounting processes, and increase accuracy and efficiency. Sync up your accounting software (Quickbooks, MYOB, and Xero) with the CloudBanking platform to efficiently reconcile payments and invoices. ​
What are the benefits of Accounting Integration? ​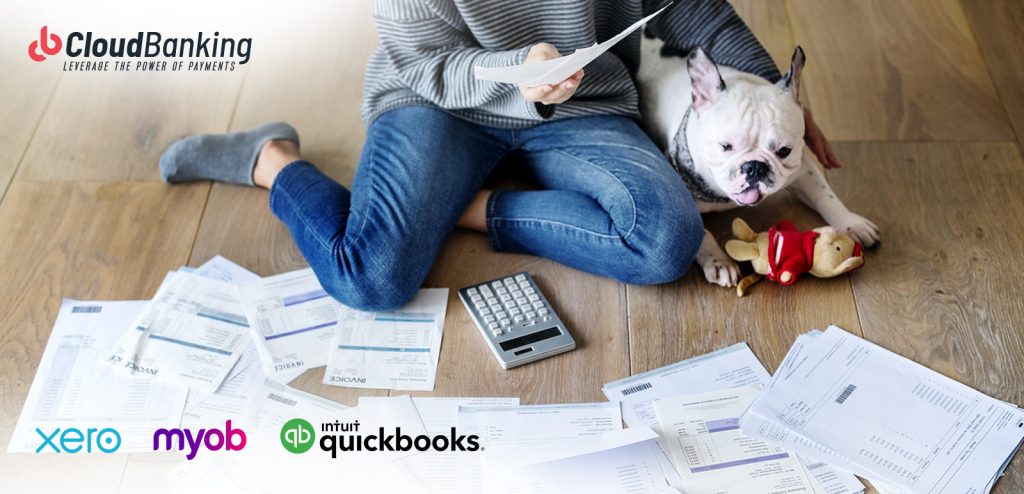 As you are in the process of maximising sales and expanding your business, you would want to integrate your payment app with an accounting system. More and more businesses are integrating their accounting system with their payments apps with very successful outcomes. Whether you are using Quickbooks, Xero or MYOB as an accounting system, CloudBanking provides you a complete integration solution. Let's have a look at some of the major benefits of accounting integration: ​
With the old paper filing systems, human errors are unavoidable. If you are using your accounting system for invoicing, reporting, and payments, then having them integrated with your payment partner will not only make your whole system more efficient, but will also save cost and time. It reduces errors by saving your time on redundant data entry, credit card verification, and hassle-free invoicing. ​
Provides Real-time Business Snapshot.​
When you integrate your accounting system with a payment processing solution, the details on your accounting or other business systems will automatically be recorded. It provides you real picture of your business and gives you more financial visibility and control. CloudBanking's recurring processing tool provides you better visibility and capability to produce real-time, accurate reports. ​
Improve cash flow and speeds up decision-making.​
An integrated payment solution closely monitors payments, speeds-up the process to post receivables, and improves cash flow. Besides, linking all account receivables and payables ensures you higher visibility of transactions on both vendor and customer sides. Thus, it makes it easy to analyse all the historical data and insightful decisions. ​
Via Cloudbanking dashboard, you can easily evaluate transactions like vendor's supply history, sales estimates, and other information and built smart business strategies. ​
Provide a secure verification of card data and electronic payments.​
CloudBanking offers world-class security benefits when comes to accepting payments via credit and debit cards. Partnering with PCI-compliant vendors, we ensure compliance with PCI security standards for informational storage and encryption. ​
Conclusion ​
If you manually take information and record every detail of transactions to keep your book, you can never have the up-to-date financial information and may lead to decisions based on faulty information. Manually entering and reconciling payments with your accounting and CRM (Customer Relationship Management), will increase the possibility of human errors and redundant data entry. CloudBanking is here to assist you through integrated payment processing with your business solutions. ​
Integrated accounting provides a complete real-time picture of your business and lets you receive complete and accurate financial information. The information flows automatically into the accounting system as orders are processed and payments are received. CloudBanking integrated payment solution provides a competitive advantage for your business. We offer all merchant services: – from credit card and debit card processing to equipment and terminals. We help you grow your business by applying an interchange fee structure to your customers, so you no longer have any issues processing your customers' payments. This makes your business cater to all your customers' financial needs. ​